Home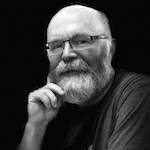 Who am I?
Glad you asked.
I am a software professional with 40 years of experience whose major focus these days is collaborating with others to enable continuous delivery of high quality outcomes. How's that for a collection of buzzwords?
To put it another way, I enjoy working with others to get stuff done. I also love seeing colleagues and teams improve their skills and knowledge so that the stuff they do is done well. And I enjoy getting to know those who I work with.
To gain more of an insight into my skills and interests, read about my professional background and explore my blog. Here are my most recent posts:
Or you can see some of my code at GitHub.
What do I do?
I currently work for Envato as an Engineering Manager. I'm also Co-Founder of RemoteRetro.
© 2023 Keith Pitty, all rights reserved.